3 Ideas for Book Shopping During Daily 5
---
Join Our Community
Access this resource now. Get up to three resources every month for free.
Choose from thousands of articles, lessons, guides, videos, and printables.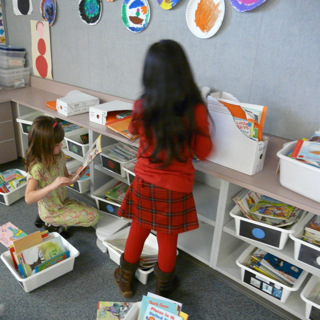 Teaching children how to pick a good-fit book is a vital life skill. Providing children with choice over the books they read is one of the best strategies we have for producing highly engaged, independent readers. However, it can be tricky to manage their book-shopping time.
First off, we teach our students to pick a good-fit book using the I-PICK method. We teach the I-PICK lesson (or a variation of it) daily during the first weeks of school. After that, we reinforce it weekly one way or another for the remainder of the school year.
When we teach young students, we fill their book boxes before to the first day of school. When we are teaching students who are in third grade and above, we teach the I-PICK lesson and provide time for selecting books before launching Read to Self. Our older students are understandably less invested in a ready-made box.
There are a couple of indicators that let us know it's time for students to exchange their books. First, student engagement and/or stamina breaks down. Secondly, students begin asking to trade their books out. We keep our radar up to make sure book shopping doesn't become a clever way to avoid actually reading, but we find that after the training is in place, students are quite responsible about meeting their needs without taking advantage of the freedom, especially if the sense of urgency is in place.
Three easy ways to provide time to shop for books:
1. Students are invited to shop for books in the classroom library during their recess. Students who really want to go to recess will shop quickly. Students who are recess avoiders will spend an enjoyable recess book browsing. These are future Barnes & Noble customers in the making.
2. We also invite our students to enter the classroom before school if they want to shop for books. They are free to browse for books until the bell rings. We also talk to our students about their books each time we meet with them.
3. Lastly, we let our students use one Daily 5 round, once a week, to shop for books. When they check-in, they simply say, "Shop for Books." We write "shop" on our check-in sheet to easily monitor this Daily 5 choice.
Providing so many opportunities ensures that every student is able to keep a steady diet of good-fit books that will enable them to reach their reading goals.