Using the Essential Elements to Set Professional Goals
---
Join Our Community
Access this resource now. Get up to three resources every month for free.
Choose from thousands of articles, lessons, guides, videos, and printables.
Each year in some form or other, we are asked to set professional goals. Often these goals are formally recorded, and other times they are more informal. Regardless, we must examine our teaching practice and determine professional goals that meet the criteria given to us. We have found the Essential Elements to be a helpful tool in our professional goal setting.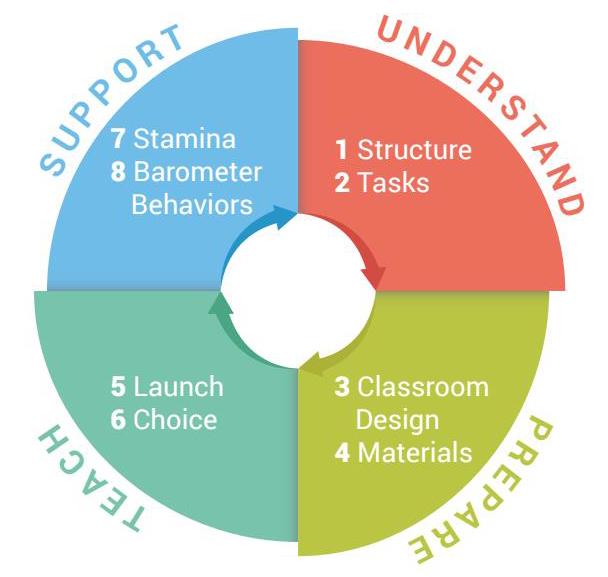 The Essential Elements are divided into four stages: Understand, Prepare, Teach, and Support. These stages break down into Elements and even further with specific criteria and a description for each. When we set goals, we start on page one and reflect on our knowledge of each criterion. When finished, we look through our reflections to determine which areas we wish to develop, and create a plan.
Here is an example of a teacher who reflected on choice and materials:
Choice: This teacher checked "developing knowledge" on two of the four criteria. She allows her students to choose which task they will work on, but they do not check in with their goal. In addition, their goals and strategies are currently solely teacher driven.
Materials: The teacher checked "developing knowledge" on two of the five criteria. She said she typically has students fill their book box with three to five books and that her classroom library is very limited.
Using this information, here are two of her professional goals:
By October 15, each student will have conferred with me to determine their individual goal and strategy, which I will record in my conferring notebook.
By the end of the school year, I will have increased my classroom library by a minimum of 200 books. I will do this through a book drive, PTO funds, and a DonorsChoose project.
There are Essential Elements for Daily 5, CAFE, and Math Daily 3, and combined they include more than 150 criteria. Using these criteria, you can determine short-term and long-term goals that will help move your practice and your students' achievement forward.