Four Benefits of Math Journals
---
Join Our Community
Access this resource now. Get up to three resources every month for free.
Choose from thousands of articles, lessons, guides, videos, and printables.
Melissa McNally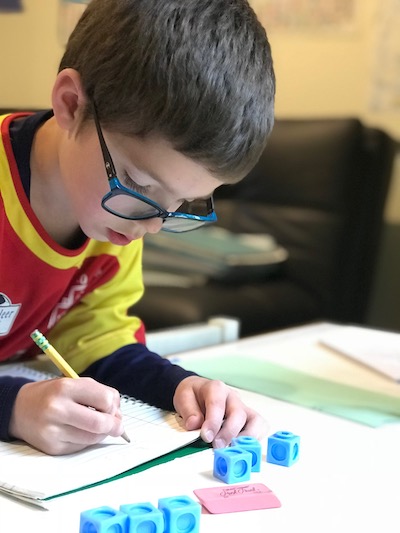 Children as young as kindergarten age are able to represent their mathematical ideas through writing. When I think of the many benefits to using journals in the classroom, three come instantly to mind:
Journals provide students with choice over how to represent their thinking. Children can organize their thoughts, process, and work in ways that make sense to them. The confines of a worksheet don't often allow students to use pictures, words, or numbers in a way that demonstrates their true understanding of a concept. Journaling provides differentiation as children choose how or how much they are capable of answering.
 
Journals provide a wonderful, compact portfolio of growth and progress through the year. Not only do tasks become progressively complex, but the way students are able to communicate their knowledge becomes more apparent. I may see the same types of strategies used over and over at first, but as children begin to have a deeper understanding, you will see them branch out to try new ways and methods.
 
Journals are a great way to communicate with students and parents. Some of the most powerful and timely conferences happen when a misconception is discovered and can be addressed. And journals serve as irrefutable evidence to parents about how a child is doing with concepts and standards that need to be met.
 
When students share with each other, they discover there are multiple representations or ways to solve a problem. Taking the time to periodically have them share their thinking and work with a partner, a small group, or the whole class prompts other students to try out a similar strategy.
If you aren't already using journals, add them in as a choice to your Math Daily 3. You will find the benefits of allowing time for students to write during math.